About Us
Chris' Side of the Story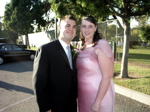 To properly get into an About Us page I think it is important to focus on the "Us" part, because without "Us" there would be no ChristopherandJamie.com. I guess it all started back in our Trigonometry/AP Calculus class. What a bunch of geeks, we met in an upper-level math class in high school. Needless to say I was the bigger dork. We got to be good friends in class. Then came Jamie's Senior Prom, my Junior Prom. Jamie asked me to go with her as a friend and I agreed. From that point on we really became good friends. The cell phone bill would never be the same.
That following year we grew closer as we would talk on the phone regularly, usually when I was heading home from work. Jamie was my outlet, she knew everything that was going on with my life. My senior year came and went as did her freshman year of college. We bonded and became even closer that summer as we hung out. I think one of the defining moments of our friendship came when Dan died that summer. She was my strength. I don't know how I would have ever done it without her.
And off to college I went. I was at Fresno State and Jamie at UCSD. I had every intention of staying out of relationships and playing the field. I went from calling Jamie 3-4 times a week to just about every day. Well, as fate would have it I was sitting talking to Jamie one night and almost finished the conversation with Love you, bye, instead of just bye. The next night there was something there, what it was would change our lives forever.
Well after talking about it, as we do everything, we decided that when I came home for Christmas that we would explore the idea of dating. Well, after a few days I realized that as I saw other girls all I could thing about was Jamie. Needless to say Jamie came up on October 24th, 2003 and we began the greatest relationship of our lives.